Enjoy up to 80% OFF as Taobao Collection opens its doors to LAZADA Philippines!
Did the recent rain ruin your planned weekend retail therapy this payday? Well, don't fret buddy. The sky may be crying bucket-loads but that doesn't mean we have to. Experience "effortless shopping" at the country's top e-commerce titan, Lazada Philippines. In you case missed, the popular online shopping mall is extending its campaign to introduce a select range of items from the Taobao Collection.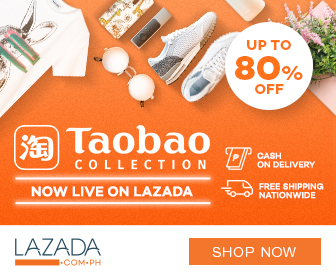 The Taobao group was founded through the Alibaba Group. Their diverse collection includes fashion wear and apparel, gadgets, accessories, and more! You can also expect updated products and new top brands, sold at the best prices possible. CLICK HERE and browse through the exquisite collection that LAZADA has been raving about.
Slay the payday right at your fingertips while scoring massive discounts up to 80% OFF.  Take advantage Lazada's Cash on Delivery and Free Shipping Nationwide options at the comfort of your own home!